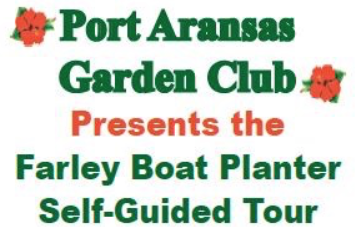 The Farley Boat Planter Tour starts on Memorial Day weekend.  The tour starts at the Chamber of Commerce and ends at the Farley Boat Works.   The Farley Boat Planter Tour pamphlet w/map can be picked up at the Chamber of Commerce. All planters are located at Port Aransas's businesses in the Old Town section of Port Aransas. Click here for the map only.  
This tour is a combination of historical significance and eco-tourism showing off the native plants that can be grown on Mustang Island. There are 28 planters on tour with 20 planters featuring native plants.  In truth over seven hundred species of flowering plants grow on Texas beaches and islands.  This tour only touches the dirt surface by showing an amazing variety of native plants.  Native Plants are essential to our ecosystem survival and for many butterflies, birds and insects to live. 
Enjoy this tour by walking, bicycling, golf carting or driving.  Please remember to keep safe, wear your helmet while biking and buckle your seat belt in the golf cart.  Watch for traffic as you stop to read about the Planter and its contents.  Keep hydrated by drinking water or stopping by many of the local watering holes.  
At the end of the tour stop by the Farley Boat Works, sign the guest book and learn more about the legendary boat.  We love having you in PA-radise. There are several photo ops where you can climb in the Planter.  They are noted in the pamphlet.  Please do not climb in a Planter where there are plants.  These Planters are privately owned property so be considerate and leave them in good condition so they can be viewed by others.
The Port Aransas Garden Club is a 501 (c)(3) non-profit organization.  PAGC is a member of the Port Aransas Chamber of Commerce, KPAB and the Corpus Christi Garden Council.
The tour is free and starts at the Chamber of Commerce 403 W. Cotter. Check out the Chamber's planter.
Share your pictures and experiences on the Port Aransas Garden Club Facebook page.
For more information email portagardenclub@hotmail.com.